CHAPTER SEVEN
DEVELOPING THE LEARNING PROGRAM
Certificate in Literacy and Learning
Certificates in Literacy and Learning developed by the Literacy and Continuing Education Branch are available at three different stages of learner development. They were developed in response to requests from adult learners for a measure and recognition of their progress.
The certificates aimed at learners who do not have specific goals but would like some recognition of their progress. Neither learners nor tutors should feel that the learner ought to take the certificate, as many learners would prefer to establish their own goals and not be involved in something as formal as a certificate.
The certificate is intended as a means of recognizing the learner's development over time. It incorporates a range of learning tasks and skills, including reading, writing and oral skills. The requirements are practical and useful in everyday activities.
For further information on the Certificate in Literacy and Learning, contact
Robin Millar at the Manitoba Literacy and Continuing Education Branch, 945-8136.
Stages of Learning
(Ennis & Woodrow, 1992: p. 41-88)
Stage I - Feeling Literate
The goal of Stage I literacy is to help learners feel like readers and writers. This is a process of developing confidence with the written language. It involves encouraging learners to make connections between oral and written language.
Stage I learners:
would probably identify themselves as non-readers;
have very limited reading and writing abilities;
may write their own name;
may recognize and name most letters of the alphabet;
may recognize some environmental print (STOP, Bingo, NO SMOKING);
may recognize some meaningful words such as names of family members.
Expected achievements of Stage I literacy include:
to write a sentence independently, using capitals and periods;
to develop a limited meaningful sight vocabulary;
to compose language experience stories with the tutor acting as scribe (ie. writing down the words as the learner says them)
to read short, highly predictable text on familiar subjects that reflect the learner's interests;
to recall explicit text information;
to recognize that their background knowledge is one of the biggest contributors to understanding what they read;
to generate and organize ideas for writing.
Introductory work will focus on: language experience stories, introduction of the alphabet and the notions of print, word recognition activities, photo stories, listening to stories on tape, listening to others read, doing assisted reading with a tutor or teacher.
Stage II - Developing Literacy
The goal of Stage II literacy is to help learners become readers and writers. This is a process of consolidating skills. It involves encouraging learners to focus on the visual characteristics of print while continuing to use their world knowledge.
Stage II learners:
can identify many words on sight;
may have some difficulty recognizing that reading is a process of seeking meaning from print;
may believe that good writers find it easy to write and spell all the words they use;
have limited word identification abilities;
are more comfortable with predictable, narrative text;
often edit as they write.
Expected achievements of Stage II literacy include:
to write a paragraph independently, using appropriate grammar and punctuation;
to understand the importance of using questions for learning;
to begin independent use of fluent reading strategies to understand text;
to use spelling patterns and generalizations;
to read between the lines and infer meaning from text;
to develop word identification strategies;
to use strategies to generate and organize ideas, to prepare the first draft, and to revise text;
to read more text;
to develop a more extensive vocabulary.
Stage II work will focus on learning about print cues for word identification and spelling, together with reading for meaning. Learners will be developing writing skills, inventing spelling for the purpose of writing, learning spelling words from writing, practicing silent reading, doing assisted reading of more difficult texts, and learning about different language patterns.
Stage III - Becoming Literate
The goal of Stage III literacy is to help new learners move from learning to read to reading to learn. It involves helping learners refine their skills.
Stage III learners:
are effective readers of most everyday materials and narratives;
have developed a wide variety of word-identification strategies;
accept that no reader can identify or understand all of the words in the English language;
may be comfortable in recognizing they may not become good spellers;
know common words from memory;
understand some spelling generalizations;
may still be hesitant writers.
Expected achievements of Stage III literacy include:
extensive silent reading;
to distinguish between fact and opinion;
to use basic reference materials;
to write for different audiences;
to adopt a critical attitude towards text;
to write a page of text;
more consistent spelling and use of grammar conventions.
Stage III work will focus on developing a variety of writing skills (e.g. essay writing, proof-reading, re-drafting and re-writing, styles of writing), individualized spelling according to need, reading comprehension, vocabulary development, critical thinking, advanced and diverse reading assignments, and developing study methods.
Learning Styles and Preferences
(Baker, p.94-96; Klein and Millar, 1990: p.9-10)
Learning styles are the variety of ways in which people learn. They are commonly grouped into three main categories based on the physical aspects of learning: visual (seeing), auditory (hearing), and kinaesthetic (tactile or motor learning). Every person uses all three learning styles, but how much they rely on each varies widely from person to person. Visual learners prefer print materials, diagrams and charts; auditory learners like lectures, audio tapes, book/tape sets, songs; and kinaesthetic or tactile learners prefer hands-on activities such as role plays, simulations, experiments, and assembling or repairing things.
Also, as tutors, your teaching style will be a natural reflection of your own learning style. What may seem to you like an obvious and natural way to teach, may not meet the needs of the learner. It may be necessary to present new materials in a variety of ways.
It has been suggested that people learn best when all three modes are used, [because]:
people who only see information will probably remember about 10% of it;
people who both hear and see information will probably remember about 20% of it;
people who hear, see and do something with information will probably remember 80% of it.
The challenge is to integrate all the learning modes into lesson plans.
Identifying learning styles
Some ways in which you can identify someone's learning style preference include:
asking the person how he prefers to do things, and how he thinks he learns best;
observing what methods and approaches motivate him;
using learning styles inventories;
observing body language (ie. use of gestures often indicates a tactile, experiential learner);
listening to the words the person uses (ie. I think/feel/believe).
Students can also benefit from understanding their preferred learning style, because it can give them a better understanding of the errors they make and to choose the best learning strategy for themselves. It is also useful for the student to understand if their own particular learning style does not match that of the teacher, and it may serve to motivate them to take greater control of seeking information in the format in which they need it.
Assisting the auditory learner
Auditory learners need special emphasis on the hearing mode of learning and may benefit from:
learning active listening skills;
listening to oral presentations;
taking notes from clear dictation;
following along while tutor reads aloud;
oral tests, oral feedback, oral instructions;
repeating important points quietly to themselves;
hearing what they are reading (ie. book/tape sets for independent reading).
Assisting the visual learner
Visual learners require an emphasis on visual instruction techniques, and can benefit from:
having the spoken word turned into pictures;
being helped to "see" the item of instruction (ie. a drill bit, a thermostat);
practicing the look-say method;
underlining or highlighting key points or words with coloured pens;
learning to clearly separate concepts on each page when note-taking;
for math, use of flash cards for problems, formulas, equations; visualizing story problems;
using acronyms to visualize words in his mind;
a variety of visual aids, such as drawing/writing on the chalkboard, use of overhead projectors with highly visual materials, movies, filmstrips, videotapes;
using drawings, maps and graphs to complete assignments and present his/her ideas
Assisting the tactile, kinaesthetic or motor learner
Tactile learners will learn best by doing, so will benefit most from hands-on activities, such as:
using tape recorders, calculators, typewriters, computers, audio visual equipment;
using available tools and equipment in the classroom;
assembling models or equipment to be used for instruction;
gaining real or simulated work experience;
feeling and touching the items being discussed;
building models and replicas;
role plays, simulations and experiments.
Assessing Reading/Instructional Materials
(Clarke, 1991: p. 16; Rigg and Kazemek; Ennis and Woodrow, 1992: p. 117.)
These guidelines for assessing materials should help you select and/or develop appropriate reading and/or instructional materials for adult learner(s). The following attributes of the reading material should be considered:
Content
Is the material relevant and interesting to adults living in Canada?
Is the material meaningful to the student?
Do the materials respect the dignity of the adult learner?
Does the material have literary merit? Is the material complete?
Are the materials relevant and sensitive to the culture and needs of the learner?
What is the author's educational philosophy? Does the author make any social/cultural assumptions? (ie. are there race, sex, class or other types of biases?)
Is the content ordered logically, and does it make sense?
Is there a description of how and where the material was developed? (This is particularly useful for learner produced materials.)
Format
Are the visuals and layout appealing to an adult?
Are the graphics clear, and do they provide clues to the text?
Are the form and typeface easy to read? Is the binding easy to handle?
Applications
If there is an instructor's guide, does it stress that the learner's expressed needs are more important than following the book from start to finish?
Are instructions clear so that the learner can use the material independently?
Does the material encourage the learner and the tutor to be creative and to use their critical and imaginative abilities?
Does the material promote the integration of the learner's developed language abilities (memory and conversational skills) with developing language abilities (reading and writing)?
Is there a variety of activities at each level of difficulty, so the learners can reinforce a new skill by using it in different ways?
Are the materials readily available and/or inexpensive?
Materials must also be selected at a reading level which is appropriate for the learner. That is, it should provide the learner with a challenge without frustrating him unnecessarily. It is suggested that reading material is selected at, or slightly above, the learner's reading level when tutor and learner are reading together. Material slightly below that level is recommended for learners to read alone. (Clarke, 1991: p.17)
The following are some commonly used readability indexes or formulas.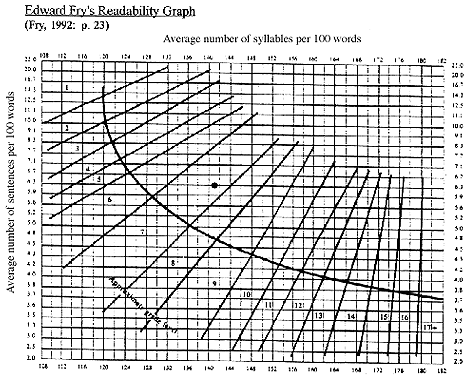 Directions:
Randomly select 3 one-hundred-word passages from a book or an article. Plot average number of syllables and average number of sentences per 100 words on the graph to determine the grade level of the material. Choose more passages per book if great variability is observed and you conclude that the book has uneven readability. Few books will fall in the grey area, but when they do, grade level scores are invalid.
Count proper nouns, numerals and initializations as words. Count a syllable for each symbol. For example, "1945" is 1 word and 4 syllables and "IRA" is 1 word and 3 syllables.
| | | |
| --- | --- | --- |
| Example: | Syllables | Sentences |
| 1st hundred words | 124 | 6.6 |
| 2nd hundred words | 141 | 5.5 |
| 3rd hundred words | 158 | 6.8 |
| Average | 141 | 6.3 |
Readability falls within the 7th grade (see dot plotted on graph)
Gunning Fog Readability Index
(Clarke, 1991: p.16)
Count out a 100-word sample from a text.
Count the number of sentences within the 100-word sample. If more than half of the last sentence is included within the 100, count it also.
Figure the number of words per sentence by dividing the number of words (100) by the number of sentences.
Count the number of "difficult" words (ie. with three syllables or more). Do not count proper nouns, compound words (ie. blackberry), or words converted to three syllables by adding a verb ending (ie. importing, imported).
Add the number of difficult words to the average words per sentence.
Multiply the total by 0.4 to get the approximate grade level.
For longer works, find the level for three passages and then average them.
Formula: 100 ÷ number of sentences = average words per sentence
Average words per sentence + number of difficult words = Total
Total × 0.4 = approximate grade level
Everyday Reading Materials
These everyday reading materials are readily available, inexpensive, and may relate to your student's goals. They will also provide opportunities to place reading, writing, and math skills within the context of daily activities.
Advertisements
Bank statements
Bills
Cable vision
Credit card
Phone
Repairs
Utilities
Biographies
Brochures
Bumper stickers
Bus schedules
Calendars
Catalogues
Adult education
Mail order
Specialties
Stores
Cheques
Community news
Contracts
Cookbooks
Coupons
Dictionaries
Film subtitles
Film titles and credits
Flyers
Food boxes
Forms
Applications
Bank transactions
Insurance
Income tax
Memberships
Registrations
Greeting cards
Identification
Birth Certificate
Credit cards
Driver's License
Health insurance
Social Insurance
Instruction manuals
Appliances
Assembling furniture
Computers
Equipment for job
Games
TV/VCR
Vehicles
Labels, packages, containers
Cleaning products
Clothing
Food packages
Medicine bottles
Pet products
· Toys
· Records/Tapes/
CDs
Letters
Business
Complaint
Fundraising
Inquiry
· Love
Personal
To politicians
With job application
Magazines
Mail
Maps
Membership cards
Menus
Movie/play scripts
Newsletters
Newspapers
Advice columns
Book reviews
Comics
Editorials
Entertainment reviews
Feature articles
Letters to the Editor
Movie ads
Opinion pieces
Recipes
Sports
Weather
Notes from school
Notices
Novels
Poetry
Political books
Posters
Programs
Awards Ceremonies
Church bulletins
Concerts
Graduations
Plays
Sports events
Price tags
Quizzes/questionnaires
Recipes
Religious materials
Report cards
Short stories
Signs
Song lyrics
Telephone book
Text books
T-shirts
Travel books
TV guide
Warranties
(Baker, D., p. 14-15)
There is not one right format for a lesson plan. Facilitators develop a format best suited to themselves and to the course content. A good starting point for a new tutor is the ROPES model, meaning Review, Overview, Presentation, Exercise, and Summary.
Review: Tutors review with learner(s) what they already know. This can provide useful information about learners' experiences, attitudes and competence and reinforce for the learners the importance of their prior knowledge and/or experience.
Overview: An overview should describe the major steps learners will take to reach the goal of the lesson, and explore how learners may be able to use what they learn.
Presentation: The presentation phase includes both the major and minor steps that make up the content, the support knowledge, and the "tell", "show" and "do" steps. At this stage, however, the tutor leads or demonstrates the "do" step.
Exercise: The exercise gets learners doing. For an exercise to be effective, learners should first be asked to practice the skill under supervision. Later, learners should be able to do the exercise without your guidance.
Summary: In the summary, learners describe and demonstrate what they have learned and explain how they plan to use it. The summary can be a simple matter of verbal or written questions and answers, or it can involve the learners in demonstrating their competence - a worthwhile exercise, as most people take pleasure in demonstrating a new skill.
Other standard elements that should be included in most lesson plans include:
details of any pre-assessment procedures to be used;
the instructional techniques to be used;
the time allotted for each activity;
the facilities, media, supplies, tools, equipment, etc. required;
details of any references and textbooks required;
details of any assignments;
details of any post-assessment or evaluation procedures to be used.
SAMPLE LESSON PLAN - EXAMPLE ONE
(Ennis and Woodrow, 1992: p. 129)
50-60 min. planning for writing
brainstorm ideas
choose topic
ask question
list what the learner knows about the topic
list questions the learner wants answered about topic
find answers
brainstorm a list of possible sources
begin to examine and read sources
record answers to questions or other information that's pertinent
begin to write
- first/rough draft
10-15 min break
15-20 min. easy reading activity
15-20 min mini-lesson on anything that needs concentrated attention
prediction skills
spelling patterns
punctuation skills
SAMPLE LESSON PLAN - EXAMPLE TWO
(PAL Tutor Guide, p. 19-20)
If your learner's goal is to find employment, a lesson plan might look like the following:
What to do:
Learn the vocabulary on job application forms.
Why do this?:
Learner is embarrassed that they do not have this skill and sees as a priority. Learning the vocabulary is a first step to being able to fill out application forms.
How will we do it?:
Obtain one or two application forms.
10 minutes - Review last session's work
10 minutes - Read forms with the learner
15 minutes - Re-read the questions and discuss the meaning of each question where necessary and help learner
decide what an appropriate answer would be.
10 minutes - Write out or help learner write out their work history which they can copy onto the application form.
10-20 minutes - Make flashcards for key words. Write the word in a sentence at the bottom of the card. Practice reading these words and sentences.
Chapter Seven References
Alberta Educational Communications Corporation. Journeyworkers: Approaches to literacy education with adults. Workshop Leaders Guide. Calgary. 1988.
Baker, Diane. The Literacy Tutor. Wetaskiwin PALS (Program for Adult Literacy Skills). Wetaskiwin, AB.
Clarke, Mallory. Goodwill Literacy Tutor Handbook. Fifth edition. Goodwill Literacy. Seattle, WA. 1991.
Crystal, David. The Cambridge Encyclopedia of Language. Cambridge University Press, Cambridge. 1987.
Ennis, Frances and Helen Woodrow. Learning Together: The Challenge of Adult Literacy: A Resource Book for Trainers. Educational Planning and Design Associates, Ltd. St. John's, NF. 1992.
Fretz, Barbara and Marianne Paul. Learning Together: A Small Group Literacy Tutor Training Handbook. Core Literacy, Waterloo Region Inc., 1994.
Fry, Edward. How to Teach Reading: For Teachers, Parents, Tutors. Laguna Beach Educational Books. Laguna Beach, CA. 1992.
King, Jereann, et al. It brought a richness to me: a resource manual for participatory literacy practitioners. Literacy South, Durham, NC. 1993.
Manitoba Literacy and Continuing Education Branch. Let's Get Started: An initial assessment pack for adult literacy programs.
Klein, Cynthia and Robin Millar. Unscrambling Spelling. Hodder and Stoughton, London. 1990.
Rigg, P. and Kazemak, F. "For adults only: Reading materials for adult literacy students", Journal of Reading, Vol. 28, No. 8.
Rodriguez, Carmen. Handout from Summer Literacy Institute, Vancouver, July, 1994.
Winnipeg Core Area Initiative. PAL (Project for Adult Literacy) Tutor Guide.
---