---
Introduction to Microsoft Works Program
and Task Launcher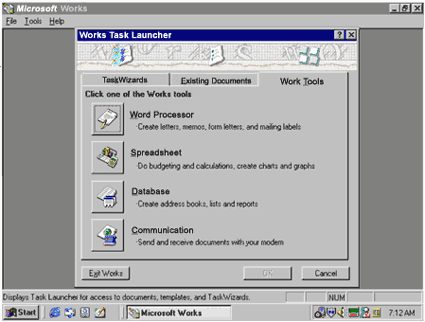 The Microsoft Works Program is designed to help you make every job easier. It can be used for business, at home or at school.
The Task Launcher is a central starting point. It is illustrated by a yellow sheet of paper on the tool bar. It speeds you on your way to getting the work done quickly. It opens a virtual storehouse of templates or you can start from scratch, open an existing document or use Works tools.
Just answer a few questions and the Task Wizards will do the work for you by setting up one of the templates, (pre-designed forms). You can use Works to write letters, memos, reports and resumes, create newsletters and flyers - any type of document.
You can illustrate your document with charts, spreadsheets or pictures.
Works can help you manage your personal or business finances, for example, you can create budgets, expense reports, add financial spreadsheets and charts to your letters and reports.
You can create an address book for vendors, customers or friends. It can also be used with the word processor to create form letters or mailing labels.