Life in Henley
By John Stone
Researcher: Doris Roberts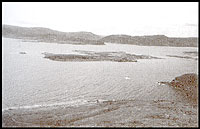 Henley Harbour, Labrador
Photo courtesy of Lorraine Stone
---
I was born in 1939 on a beautiful sunny evening in August at Henley Harbour, Labrador. I was the fourth in line of a family of twelve children, six boys and six girls, sons and daughters of Alfred and Jessie Stone. We lived on an island called Stage Island. The day being a Sunday, everyone had gone his own particular way. My mother was all alone at the time, except for a seventeen year old girl, who cooked for Fishery Products Ltd. She was called upon by mother to get the midwife who lived across the harbour. She had to go by boat and since she didn't know how to row she needed a lot of courage. Just as she got ready to leave the wharf, my father arrived from berry picking. He immediately fetched my grandmother, the midwife, who brought me into the world on August 20th. I lived in Henley Harbour from 1939 to 1969.
We lived in Henley Harbour during the summer months and Pitt's Arm in the winter. Then under the resettlement program we were forced to leave our beautiful historic and picturesque community. We had to leave our comfortable homes, plus everything we ever worked for to go to places where we did not even know anyone and had no way at the time to earn a dollar by which to survive. I was married in 1967 to Lorraine Rumbolt and since Mary's Harbour was her home, we thought it would be convenient and appropriate to build a home and settle there. We have two children who are now grown and moved away. Paulette is a teacher and is now living in Port Hope Simpson. Curtis has chosen a career with the R.C.M.P. and is now stationed with their detachment in Sydney, Nova Scotia. As fishing was our way of life, we returned to Henley Harbour every summer since then to fish for salmon and cod, from which we made a fairly decent living. It seemed all was going smoothly until the cod moratorium in 1992. Then everything and everyone was uprooted and driven away by the closure of the cod fishery and eventually the salmon fishery. Fisherman were offered a meager survival in place of a good and prosperous way of life. To have everything taken away from you by people who don't understand is something that will never be forgotten nor forgiven by a lot of people. A whole heritage and culture has been destroyed by a few bureaucrats who do not know what they are talking about.
---
8 Quintal - 112 lbs.