ACKNOWLEDGEMENTS
---
Last Issue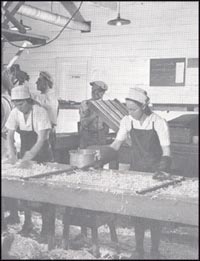 In our last issue we mistakenly credited Marie Letellier of Relais femmes as being co-author with Madeleine Parent of NAC for the article "Preamble to a Consultation of Women's Groups/Préambule à la rencontre de groupes de femmes". Madeleine is the sole author of the article. Marie provided input and comment, but did not co-write the article. Mea Culpa, Madeleine.
Ann Meredith is the photographer of the wonderful photo on page 19 of the Fall issue. Our thanks to Susan Doro, Executive Director, of TRADESWOMEN, INC. for providing us with this additional information. TRADESWOMEN: A Quarterly Magazine for Women in Blue-Collar Work, is published by TRADESWOMEN Inc. P.O. Box 40664, San Francisco, CA 94140, USA.
---
This Issue
We thank Convergence Consultants, Nancy Jackson, Linda Breault, Sara Diamond, Christine Overall, Jean Swanson and Donna Stewart of Women Skills for contributing articles to the magazine.
Photos were provided by Linda Breault, the Canadian Women's Movement Archives, Sara Diamond and Wes Knapp of the B.C. Teachers' Federation. Our thanks go to photographers Sandy Cameron and J. Enmar for allowing us to use their work. The Women's Labour History Project did the photo research for the article "Union Maids History".
Thanks also go to Jennifer McIntyre and Susan Fell Pacaud for allowing us to reprint their graphic material. The graphic used in French- language article was reprinted from the document Federal Government Policy and Decision-making Process. Special thanks go to Louise Gadbois, a , London based graphic artist, for donating an original graphic to CCLOW.
---
About the Cover
These women are shredding cabbage in a dehydration plant in Vernon, B.C., in 1943. This plant was used to produce foodstuffs for soldiers stationed in Canada and overseas. Many married women took their first jobs on the assembly lines of such plants as this one.
Ces femmes déchiquettent des feuilles de choux dans une usine de déshydratation à Vernon en C.-B. L'usine produisait des aliments pour les soldats en poste au Canada et a l'étranger. Beaucoup de femmes mariées trouvèrent leur premier emploi dans des usines comme celle-ci, où on faisait du travail à la chaîne.