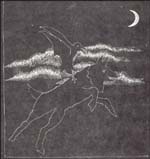 It aids in discipline and teaches non-interruptive mannerisms. It is considered an insult to continuously interrupt the story teller; it is similar to cutting off an energy source by pulling a plug!
In ending my story, one of the lessons of life shared with me by one of the elders is that before speaking with anyone it is important to pray. "This will clear the air," she said. "You must pray that what you are going to say will be heard the right way and what you are going to say is going to be the right words. This is the good way." I hope that what I have said has been helpful to you and you have heard my story the right way!
Louise Profeit-Leblanc was born and raised in the Yukon. She is a Northern Tutchone Indian from the Nacho N'yuk Dan band in Mayo. Her people originally lived in Selkirk on the mighty Yukon River. Raised on and off by her grandmother, stories of her ancestors told in legendary fashion were her fond memories. Stories were shared throughout the day and became her teachers, with each story containing gems of knowledge and guidance.
This fascination held throughout her life and many of the morals and principles acquired through this educational process assisted her. Stories became creative forces through which she could teach not only her children but others who were interested in mythology and how it pertains to today and not just yesterday. While working with Mental Health Services in Whitehorse, she was able to use many of the legends that, once interpreted by her Native clients, would assist them in realizing their own inherited coping abilities and strengths.
Louise Profeit-Leblanc now works for the Yukon Territorial Government, Heritage Branch, as a Native Heritage Advisor. She is married, has three daughters and has a keen interest in her Native ancestry and cultural development.
Books available on Yukon Indian Legends.
These women are four very well known story-tellers of the Yukon and have shown extreme patience in sharing and promoting the necessary pretension of our history through their stories.
My Stories Are My Wealth: Angela Sidney, Kitty Smith, Rachael Dawson. Council for Yukon Indians.
Nindal Kwadindur: Kitty Smith. CYI.
Tagish Tlaagoo: Angela Sidney. CYI.
Old People In Those Days They Told Their Story All The Time: Annie Ned. CYI.
Council for Yukon Indians
22 Niscutlin Drive
Whitehorse, X1A 3S5
(403) 667-7631