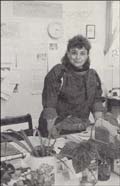 Barbara Wood
How does a woman upgrade her education and skills when she lives in a remote northern community? When the only road winds 25 kilometers north-east to a couple of small villages on the lake? When the nearest university is several hundred kilometers away? And what happens when a woman has children at home, and no money to spare?
I spoke to three such women of Labrador. For each one ingenuity and imagination are part of the answer. Each has taken advantage of what- ever learning opportunities came her way and in the process used a variety of educational resources from videotaped courses and live seminars, to workshops, teleconference meetings and a range of informal learning situations.
It might even be that these women - all residents of Happy Valley-Goose Bay, a central Labrador town of 7,600 - have experienced a wider variety of learning techniques than have many urban women. Each woman stressed the importance of sharing what she learns.
Barbara Wood was born in Cartwright, a fishing community on the south coast. After eight years in the United States as the wife of a USAF serviceman, she is back in Labrador, divorced and in sole charge of two teenage sons. Her family has both Innu (Indian) and Inuit blood, and Barb is secretary of the Labrador Native Women's Association as well as Labrador representative with the Native Women's Association of Canada.
A high school graduate, she found some of her most valuable learning in women's workshops studying, for example, group dynamics with single-parent mothers' committees, economic development with local native women's groups, and constitutional issues with the National Native Women's Association.
She stresses the importance of sharing knowledge. The National Film Board, CBC Radio and television, videotape and Memorial University's teleconference system have all been useful. She is especially enthusiastic about teleconferencing.
"It's a super tool. Because of it. I've been able to communicate with other single mothers' groups across the province, and all the native women's groups have been able to keep in touch." "There are a lot of women coming out of 10- or 15- year marriages who were never responsible for bringing any money home, and now they have to be in total charge of a family. They don't have the confidence to handle it on their own. This is where sharing your skills comes into play. And that's education." Over the past few years, Barb also has taken formal courses on a wide variety of topics: Labrador history and culture, museum conservation and exhibition display, duffle embroidery, photography, water-colour painting and typing. Now she's enrolled in a criminology certificate course on "Crime and Social Behavior."
"If there's a workshop offered, or a guest speaker flying into the area, it may not be something I can see myself using right now, but maybe someday I will be able to use it. So you take in whatever you can, for the future - and for passing on to your friends and children. "
Barb is a coordinator at the local women's centre 30 hours a week.
"I feel I have to use my extra time in the very best way I can," she says. Yet when I do go to classes at night, I feel guilty because I'm not spending that time with my kids. A few days ago I sat down and talked with them, and told them we had to sacrifice some time now to help make our future better."
"I think it's a shame that you can't be credited for what you learn just by living. For example, if you're an avid reader, you've probably read extensively in certain fields."
"I'd love to be able to go to university, to work on a fine arts degree, but it's an impossible dream. I have to save for my children's education first - my oldest will be ready to go soon," she continues.