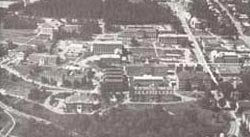 University of New Brunswick
Women's Studies has made almost no impact on high school curriculum or on the lives of high school women. While some intrepid teachers and administrators have kept women's issues alive at this level, it is an uphill battle which feminist educators are just beginning to take very seriously. Certainly the feminist perspective has barely made its way into text books and learning materials. If we want the next generation of women to continue to develop Women's Studies, we would be wise to expose them to it at an early age.
While there is an increased presence of Women's Studies in post-secondary education in Canada, we have a long way to go. We must systematically examine all curriculum and texts for gender-fairness and make sure the feminist analysis makes its way into professional education and vocational training for both women and men. We must also recognize that Women's Studies cannot really flourish in a misogynistic environment; hence we must analyze our institutions and attempt to bring about structural changes within them. We must be vigilant that Women's Studies not become separated from feminist ideology and diluted into courses about women. We must ensure a renewal of the original pedagogical fervour of the "pioneers," many of whom felt violated by our own schooling. Too often Women's Studies pedagogy succumbs to the authoritarian and actively disconfirming patterns which so characterize higher education in Canada. I hope that the third decade of Women's Studies will bring with it a well articulated pedagogy which surpasses the pedagogy of "talking heads" and recognizes and honours as essential data how women students and women faculty subjectively experience gender.
Greta Hofmann Nemiroff was a founding mother of CCLOW and is currently co-director of the New School of Dawson College in Westmount, Québec. She is an active writer and editor; her most recent publication is a prose and poetry anthology entitled Celebrating Canadian Women.
To my knowledge the current Chairs are: Daphne Marlatt, Western Region; Keith Louise Fulton, Prairie Region; Monique Begin, Central Region; Maria de Koninck, Eastern Region; and Margaret Andersen, Atlantic Region. However, there may have already been changes in B.C. and the Atlantic Provinces.

Répertoire de tous les cours femmes, féminisme, rapport de sexes, offerts par 13 universités francophones du Canada, 1989-91. Françoise Guénette. Montréal: GIERF, Université du Québec à Montréal.