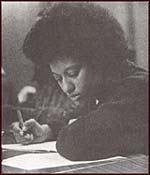 University of Toronto
New programs developed and implemented by colleges are helping women update themselves, develop new skills and look toward promotion and change in their careers. Some colleges have introduced job shadowing and internship programs to further help the development of women employees. The introduction of pay equity in the province will offer help in some areas of the college system, but significant changes are not expected. The increased pressure on the provincial government should result in mandatory employment equity which will, when it comes through, strengthen our position.
There is certainly a heightened awareness and sensitivity to the special needs of women students, particularly mature women. Colleges are developing childcare centres, more flexible class scheduling and more part-time courses to accommodate the needs of these students.
Classroom material that better reflects the female experience and which will enhance the chances of success for women students is also appearing.
But the loss of bridging programs, FOCUS and WITT has increased the problem of encouraging women to enter non-traditional fields. A major problem we, as Coordinators, face is fatigue - generally we represent the single voice dedicated to employment equity. We are the policy developers, the harassment officers, the program developers, the classroom specialists, the selection committee experts, etc; each of us has developed the job according to our understanding of our college and its needs. The fall out is heavy. Burn-out is rampant and the turnover high. Three years in this job is a good record and though some perceive the position as developmental, the high turnover makes regular networking, consistent support systems, and maintenance of standards across the province difficult.
THE FUTURE
Recently the executive committee of Education and Employment Equity Coordinators prepared a ten year report for the Committee of Presidents. This report reaffirms the pressing need for the Ontario government to legislate mandatory employment equity. There is a growing concern among coordinators that failure to implement this kind of legislation would mean continuation of a slow and uneven process.
Mandatory legislation would provide the basis for education and employment equity for all groups who have been historically disadvantaged. Such legislation, however, must include, on the one hand, provision of resources to accomplish the specifics goals and, on the other, sanctions for failure to do so.
The current government is looking at mandatory employment equity legislation and now is the time for a strong lobby to push the action forward. Only through this kind of government support will the system be able to demonstrate commitment to and provide real equity in the college system. Until then, the current courageous coordinators will need patience and strength to continue in their battle.
Simmy Hyman has been the Education and Employment Equity Coordinator at Centennial College for nine years. She has been in the community college system for fifteen years, previously as faculty in community services.