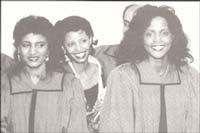 Margaret Anderson-clarke isa Program
coordinator at the African Training and
Employment centre.
Twenty African women now have marketable skills in technical industry
Students have learned to read blueprints, write computer programs, do precision measuring, set tools and run the parts.
Experience has shown that the majority of clients who come to ATEC for skills training also require help and support to develop their learning abilities and self-confidence. While job training is essential for the development or upgrading of marketable skills, there are other factors that make an individual "employable".
ATEC plans to add full counseling services and a series of workplace orientation workshops to the curriculum. The proposed counseling services program is expected to assist clients in individual and group counseling, and in placement services. The Centre is confident that clients will benefit from this new integrated approach to their skills training.
From the continent of Africa to the shop floor of a CNC plant in Toronto--that's quite a distance. With the help of ATEC, twenty African women now have marketable skills in a technical industry, which is one step closer to securing their future in Canada.