"Many of us are
afraid to speak
our minds or
organize for
fear of
being put
back into an
institution."
Diane Driedger is the International Development Officer for COPOH. She is the author of The Last Civil Rights Movement: Disabled Peoples' International (1989) and has recently co-edited, with Susan Gray Dueck, an international disabled women's anthology which is currently seeking a publisher.
April D'Aubin is a Research Analyst with COPOH. She has worked with disabled people's self-help and independent living groups for the past seven years.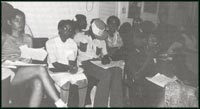 Women from Canada, the U.S. and 15 Caribbean countries participated in a Disabled Women in Development leadership training seminar, Dominica 1988.
Ed Wadley, "Teach Someone to Read!" Ontario March of Dimes Advocate, (Summer 1990), p.3.


World Program of Action Concerning Disabled Persons, United Nations, New York, (1983), p.3.


"Disabled People Must Fight Barriers to Overcome Literacy Problems" Ontario March of Dimes Advocate, (Summer 1990), p.12.


Status of Disabled Persons Secretariat, Basic Statistical Information on Persons With Disabilities in Canada, Government of Canada (1990), Table 7.


Dr. Fatima Shah, "The Blind Woman and Her Family, and Participation in the Community (Rural)" in Diane Driedger & Susan Gray Dueck, eds., Imprinting Our Image: An International Anthology by Women with Disabilities (book manuscript), p.128.


Zohra Rajah, "Thoughts on Women and Disability" Vox Nostra, 2 (1989), p.l0


"Literacy and Persons with Disabilities" Destination Integration vol. 1 no. 1 (1990), p.6


Roger J. Carver & Tanis M. Doe, "Rehabilitation Or Oppression? Options for the Humanization of the Deaf" Canadian Journal of the Deaf, 3 (1990), pp.91-92


Zohra Rajah, p.l0.
References
Cathy McPherson, "Poverty and Disability: How to Break the Connection" ArchType 8 (April 1989).
The New Internationalist 180 (February 1988).
Yutta Fricke, "International Year for Literacy: Education for All?" Vox Nostra 1 (1990).
Judy Heumann, "Growing Up: Creating a Movement Together" in Imprinting Our Image (see note 5).