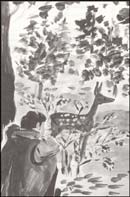 I was in grade four when I learned how to spell and do arithmetic every day. It was almost a ritual and this is how my arithmetic class started. The nun would say "Everyone, recite and spell Arithmetic," so we would say out loud "A red Indian thought he might .eat tobacco in church." Eating or chewing tobacco was dirty, and doing it in church was being disrespectful, was the message.
My MENTAL SELF was affected by this as I perceived this message to mean I was dirty, I was disrespectful, because I was an Indian. The constant reminder that I was in residential school because I was an Indian and I was to learn to be a civilized person and not be a savage like my ancestors affected the way I thought about myself.
Geography and History classes were used to continue this reminder. I hated both classes but I also tried hard to forget. I would do colourful maps, draw animals, children playing around their mothers and other people sitting around the campfire. I never did believe what I read in the History books.
For all my years at the residential school, I had Catechism classes and did my daily prayers every morning and every night. When I talk about my SPIRITUAL SELF it has nothing to do with religion. My spiritual self is my spirit to feel, to understand, to relate, to experience and to be my self.
My spirit was deadened by all the pain I endured as a child.
As a university student, I began my healing process to deal with the "Mission School Syndrome"; I turned my negativism into positive energy. My healing process has been remembering my childhood and adolescent years and being aware of my behaviours and feelings. It hasn't been an easy process, remembering is very painful and learning to accept the positive and negative experiences is very hard.
Today, I share my experiences with openness and no regrets. I accept all experiences as part of my lifelong learning process. Education is also pan of learning and I know that in order for an individual to be an effective member in society and to be able to survive in the mainstream workforce, one has to have a good, acceptable education level.
It is my desire and intent to use my skills to help my people.
I am a Canadian Native Woman and proud of my culture.
I am a Canadian Native Women and proud of my culture.
Elizabeth Bear is a Cree Native from the Mathias Comomb Band of Pukatawagan, Manitoba. She graduated from Brandon University with a BA. in Native Studies and Human Services and in 1990 received a Diploma in Human Resource Development. Presently, she is one of the project coordinators for the Meyoyawin (Healing) Circle. This program helps women in the community and at the Pinegrove Correctional Centre to deal with violence that has affected their lives. She is helping her Sisters.