I remember the night that I left home for good. I was just starting grade eleven and one night, before Leonard came home, I left the house to meet some kids in my class at the roller-skating rink. When Leonard came home and found me gone, he knew where I was , because I had called to ask to go; he had said no, but I had gone anyway. When he reached the rink, I was outside talking to a girl named Laura. I told her we would drive her home. I knew that would hold off my beating for a little while; he would never touch me in front of a witness. He was driving a company truck and was drunk as usual. He drove the wrong way down a one way street and got pulled over.
I remember the night I left home for good. I was just starting eleven.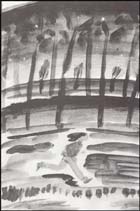 Running to the neighbours for help.
The cop drove Laura and me to her house and asked her mother if she would let me stay the night. Her mom said yes. That was to the be the last time I would see Leonard until my early twenties. I was to go to school the next day and then go back to Leonard's house. I went to school but I didn't go to my classes. I went to the office and told the secretary that I needed a transfer letter right away and that I was going to live with my mother. She gave me the transfer and then I ran to the house and grabbed a backpack and filled it with some clothes and some money from Leonard's dresser.
I next thing I knew I was in a truck on my way out west. I didn't know where I would end up, but all I could think about was that I was free. My first stop was Winnipeg. I did enroll in school there but by April of that year I was falling asleep in class and not doing a good job at work (I had a night job). So I quit school because I couldn't quit my job. I hope that someday I can work out my past, but I take it day by day.
Loralee Elliot is a single mother living in Toronto. She is currently employed by CCLOW as a Word processor/Secretary.