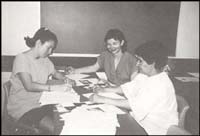 TechPrep students.
While there is rapid expansion of technology-based fields, there is no corresponding increase in the numbers of women entering those fields. Large numbers of young women continue to graduate without strong academic maths and sciences, despite their capabilities to succeed in these subjects, and there are few role models and mentors to support women entering careers in these technologies.
During the three year planning period, I held ongoing consultations with individual women who had encountered access barriers, with educators who have experience in addressing gender socialization, and with colleagues committed to feminist training principles. My membership in advocacy groups -- Women's Employment and Training Coalition (WETC), Women in Trades Technology (WITT) and Canadian Congress for Learning Opportunities for Women (CCLOW) -- helped me keep informed of research and development in women's education and training. These groups also provided valuable feedback and continue to ensure my accountability as a service provider.
Eventually, a pilot program was developed. It took the form of an innovative, education-based project designed to correct the systemic barriers which prevent women from obtaining training and employment in technological fields. The model born, in March 1989, closely resembled results from a decade of feminist inquiry into education, women's ways of learning, and the experience of women training for non-traditional employment and in bridging programs.
There is rapid expansion of technology- based fields, but no corresponding increase in the numbers of women entering these fields.
The following components were included: full subsidization for child care as required, income support (social income assistance, Unemployment Insurance benefits or training allowance), transportation allowances, orientation to non-traditional occupations, work place practicum, job search, familiarization with tools, YWCA physical fitness, personal and professional life skills training, instruction in worker rights (including sexual harassment and safety awareness), as well as workshops with role models to allow for shared personal experience of survival in male-dominated occupations and opportunity for fostering future employment contacts.
After three years of bard work, persistence, and downright obstinacy, funding was finally approved jointly by CJS and the B.C. government a ridiculous three weeks before the proposed start-up date. From approximately one hundred inquiries, sixteen women were selected to participate. They ranged in age from 25 to 53 with past work experiences as diverse as their educational backgrounds. While only a few of the women had any previous experience in technologies (medical, horticulture, computers), they all shared the desire to receive certified technology training both for the challenge it presented and for the opportunity of future job security with decent wages and economic stability.
The minimum and inadequate income assistance received by participants resulted in tremendous efforts to survive economically, both during the TechPrep Pro gram as well as during the two subsequent years as full-time students at BCIT.