'Spirit of the Big Land'
shows love of Labrador nature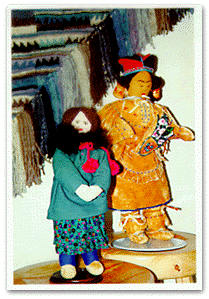 The people of Labrador have called their home "The Big Land" for many years. This winter they had a display in Happy Valley-Goose Bay. The display was held to show the people's love of the land. The display was called Spirit of the Big Land.
Labrador artists make crafts to show how they feel about their land. They make carvings, dolls and slippers. They also make quilts, paintings, knittings, and caribou hide boxes. These were some of the things on display at the show.
Everybody liked the Innu Tea Dolls. Each doll is different, but they are all stuffed with tea. This is part of the Innu way of life. Children would take the dolls when their families were moving around Labrador. This was a way for the children to help carry the load. The artists came from many cultures including Inuit and Innu. Their common bond is a love of the land.
"We wanted to show how proud we are of our arts and crafts here," says Barb Wood. Ms. Wood is a member of the Lake Melville Artists' Association.
The artists get their ideas from nature. These ideas come from the open spaces, the wildlife, the sea birds and the plants of the Big Land. The people of Labrador have always lived in harmony with nature. They feel they are a part of nature and love nature's beauty.
The items in the picture were part of the Spirit of the Big Land display. Madeline Michelin made the Innu Tea Doll. Barb Wood made the Settler Doll. Robin Goodfellow-Baikie made the All Around Me Shawl.
---