---
Strippers Life Skills Group
---
by Rita Mifflin
In the fall of 1984 the YWCA of Metropolitan Toronto held a public event, Alternatives to Pornography with Helen Porter. Several women who work in the striptease/burlesque entertainment field attended. They requested a meeting with YWCA staff to discuss their wish to begin a self-help support group.
Several meetings were held with this group of women and the search began for funding and for an indigenous leader. In the meantime, the YW became actively involved by providing a Life Skills Coach to begin the needs assessment and outreach with the women at their places of work.
As needs were identified, it became clear that, while women strippers face some particular problems arising out of their work (its connection with the sex trade, and public attitudes), more commonalities than differences were present.
The objectives of the group are:
increasing self esteem, awareness and confidence
career / life planning, vocational exploration / work alternatives
solidarity and support leading to advocacy
becoming aware of and using community resources
drug and alcohol abuse counselling
In January 1985, a leader came forward from the group and was hired as a Life Skills Coach Trainer. She participated in two Life Skills Coaches trainings: a ten-week evening course and a six-week full time intensive. She was partnered with a Life Skills staff member for six months training and supervision. The group is meeting weekly, has developed a strong core attendance and is steadily expanding through its leader's weekly outreach visits in the clubs. Many women receive counseling and support in the dressing rooms between acts.
We are beginning to receive referrals from therapists and other agencies as more people hear about the group. The achievement of objectives will not be evaluated until year-end; however we are very satisfied with results to date.
The YWCA has been very active in advocacy and social action on all issues related to pornography and violence against women and children. This program is a logical outgrowth of this involvement; and, we believe it is a measure of our positive open image in the community that we were approached by women who have been left out of consideration by most educators and social service providers.
Rita J. Mifflin is the Director of Community Programs and Services at the YWCA of Metropolitan Toronto.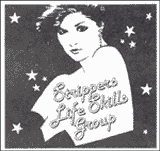 FOCUS ON GOALS
THRU SUPPORT
& SELF AWARENESS
AS AN ONGOING CREATIVE PROCESS
DAYCARE ON REQUEST
EVERY SUNDAY 4:30-6:30 pm
AT 80 WOODLAWN AVE. E.
BROUGHT TO YOU BY
ZELDA SCORCH & THE YWCA
CALL 487-7151