Interview
---
by Susan McCrae Vander Voet
Kay MacPherson was born in England and trained as a physiotherapist before coming to Canada. She worked in Montreal, New Brunswick and Ottawa before marrying a University of Toronto professor and raising a family.
She chaired the first Board of Directors of Physiotherapy for Ontario and later did voluntary work for a number of organizations. Kay is a Member of the Order of Canada and received the Metro Toronto Y.W.C.A. "Woman of Distinction" Award in 1984.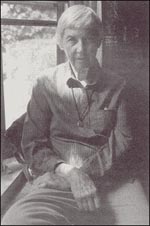 She helped organize Women for Political Action and ran as a candidate in four federal elections. She is a Past President of the National Action Committee on the Status of Women and is on its Survival Committee. She is a board member of the Canadian Civil Liberties Association. As President and Executive member of the Voice of Women she has organized and attended many international meetings and conferences for peace and human rights, and spoke at the Rally in Central Park at the time of the U.N. Special Session on Disarmament in 1982.
As a neophyte to the peace movement, but not to the women's movement, I wanted to interview Kay Macpherson about relationships between the two. I was particularly interested in the linkages between the movement and what feminists working for peace had to contribute. This focus led us to address a number of other interesting questions.
Susan: How did the linkages between the women's movement and the peace movement develop?
Kay: That really does take us back to beginnings. When the current wave of the women's movement began, The Voice of women and a few other organizations were always there saying "you'd better work for peace, too." At first everybody tore their hair out, but gradually it was accepted that without women's paying attention to ending war and ending violence, that it would be very difficult to achieve equality in any way, shape or form.
---
"EVFRY MINUTE THE WORLD' S
MILITARY BUDGET ABSORBS $1. 3
MILLION OF THE PUBLIC TREASURE"
---
About three years ago we showed the Helen Caldicott film at the annual meeting of the National Action Committee on the Status of Women. That's when NAC officially became aware that there was a connection between employment, inflation and other issues and the whole militarization of our society. Then they made the connection between violence against women in the home and violence as a "solution" to national and international problems. The NAC Survival Committee was formed as a result.
Since then it's come into every one's awareness that inflation, unemployment and all these things can't be dealt with unless you also do what you can to stop the whole violent society and the militarism which at the moment has hold over every thing. The U.S. deficit is messing up the economies of so many countries and it is the U.S. military budget which is at the base of that deficit.
---
"IN THE U.S., $200 BILLION PER
YEAR IS SPENT ON MILITARY
DEFENCE -EQUIVALENT TO THE
SIZE OF THE DEFICIT"*
---
Susan: As women proposing alternatives to militarization, how do we look at the economic factors such as how employment can be maintained while switching over from a military to a civilian economic base?
Kay: We're going to have to persuade them in economic terms that it would be better for jobs and better for the economy. After the Second World War, we converted everything from military production to production of civilian goods. It's not the case now that we're in short supply of goods, but we are in short supply of every social service. And then we've got PCB's and acid rain to be cleaned up. The housing situation is terrible. There's little low rental housing, you know.