---
Marketing Non-traditional Jobs to
Girls and Women
by Avebury Research and Consulting Ltd.
This is a summary of the findings and recommendations of the study Marketing non-traditional jobs to girls and women (1985), commissioned by the Women's Employment Directorate of Employment and Immigration Canada.
The purpose of the study was "... to gain information about the most effective ways to persuade girls, teen-age women and adult women to consider employment in non-traditional occupations. The results of the study will be used as the basis for the development of a successful communications strategy to promote interest in non-traditional employment among girls and women." (Avebury, 1985: page 2).
Three research phases formed the basis of the study: (1) discussion groups with girls and young women (aged 8 to 21) and mature women (age 21+) in Toronto (Anglophone) and Montreal (Francophone); (2) self-completed interviews with a total of 501 girls and young women in school classroom settings in Ontario and Quebec; and, (3) self-completed mail-back surveys with 500 adult women across Canada (384 working outside the home; 116 homemakers planning to return to the workforce within the next twelve months).
FINDINGS AND RECOMMENDATIONS
A) ADULT WOMEN
(1) Persuasive Messages
Analysis of the responses of adult women indicate that there are three primary messages they would find most persuasive in motivating them to choose employment in a non-traditional occupation: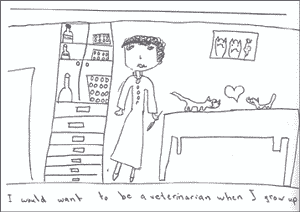 Non-traditional work is interesting (not boring);


Women are capable of doing non-traditional jobs, as numerous
other women are already demonstrating;


Non-traditional work can provide women with a great
sense of accomplishment.
The finding that women rate interest as the most important job characteristic verifies the work of other researchers and the results of the focus groups which preceded the survey components of this study. These groups showed that:
intrinsic job motivators are more powerful than extrinsic ones;


the most powerful intrinsic job motivator is interest.