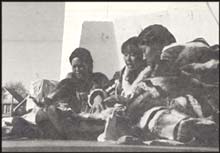 Oopah Attagootak, Ida Awa, Iga Atagtak: women's scene in the igloo
"My children will know an easier life, but will they know a better one? Will they be strong? Will they be wise? Will they be proud of the struggle?"
Old woman in Tunooniq Theatre's play "Changes"
Academic achievement hasn't come easily to native Canadians. In the small Inuit community of Pond Inlet where I am adult educator, many of my students are casualties of the education system. They are the first generation to be without the traditional knowledge in which their parents were steeped; yet they have failed to master the marketable skills necessary for survival in today's urban society. It was to motivate young adults with a hands-on approach to learning that I became involved with a successful theatre project. The program was experimental and many mistakes were made, but I feel it achieved its objectives.
In 1984, my husband, Pakak Innuksuk, and I formed a theatre group for young people to help them express their feelings about life. I quickly saw that theatre could be an excellent method to meet the specific needs of my adult students. In January, 1986, I obtained Manpower funding to run a six-month training program that would teach communication skills to eight young people through developing and performing a play. While I was primarily interested in any theatre process, I knew that performance was integral to any theatre program being used as motivation. To this end, periodic performances throughout the six-month training period would culminate in a major tour of Expo '86 and folk festivals in southern Canada and Alaska.
The participants were typical of young people requiring academic upgrading; they had special needs that had to be addressed before academic achievement was possible. The creative theatre process was designed to improve our students: written and verbal communication skills - many young adults can't express abstract thoughts in English, few can write well; to encourage assertiveness and self appreciation, particularly in relationship to non-natives and people with a higher education - many never apply for jobs they desperately want for fear of failing; to raise awareness of their social condition and important issues many of my adult students don't understand how change has hurled them into a no-man's-land, without a niche in either the traditional or modern culture. We hoped our program would increase our students' ability to stick with long-term projects. Many are dropouts who never bothered with school and haven't held a job for any length of time.