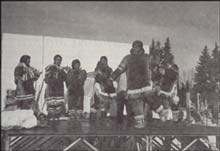 Ida Awa, Iga Atagotak, Oopah Attagotak, Pakak Innuksuk, Mitusalie Attagootak, Josia Kilikushak, Malachi Arreak; Lamech Kadloo (dancing)
As well, the original members of the group formed a theatre society to obtain funding from government agencies charged with informing the Inuktitut speaking population. Their idea is that theatre can be a more effective means of getting the message across than glossy pamphlets and flashy posters, particularly to a group steeped in the tradition of story telling.
To that end theatre has become for me much more than a one-time experience for a few students but a process of education I hope to use more frequently in my work. But just as exciting as the theatre process is the possibility that I can work with a group of dedicated professionals, of informing and activating whole communities around social issues. There are plans to develop children's theatre and Inuit role models and to do a major production on the issue of substance abuse.
While all the actors involved in the theatre program improved their grade equivalents in English, many of their achievements are difficult to localize and test. Perhaps the greatest proof that the project worked came when I heard what one of the young women participants told an interviewer from a documentary film crew:
"Before theatre group I thought I was never going to do anything. I didn't know how to talk to qallunaits (white people). Now I know I can do a lot... I've been around the south and I've talked to lots of people. I want to travel. I want to learn more. This has been the best thing that ever happened to me"
Ellen Hamilton lives in Pond Inlet, on the northwest tip of Baffin Island, with her husband, Pakak Innuksuk, and two young children, Shawn and Nyla.