You may never know all the personal changes as a result of a student taking your course. Perhaps the students themselves may not realize what changes in attitude or behavior are attributable to anyone particular influence. The course made me consider what was happening in my own life on a broader scale. Everything I studied could be applied to my work, my relationship, or my personal life.
Personal communication
Since the 1960's, women's studies has provided a forum for empowering women within academic settings by making them visible, validating their perspectives and experiences, and providing them with a voice for articulating their concerns. Women's studies has been a relative latecomer to university campuses and is a recent addition to distance education offerings. In fall, 1986, Memorial University of Newfoundland began such a long distance credit course using a multi-media format. Our involvement with the production and delivery has provided an opportunity for us to reflect on the potential of such courses for reaching and empowering isolated women. We have also become aware of the limitations of credit courses and long distance delivery systems for feminist outreach.
Although our experience is with a specific course in a particular region, we believe that what we've learned can be applied to similar efforts elsewhere.
Visibility
Women students and teachers have struggled for visibility at universities. We have been greatly under-represented on faculties, absent from the curriculum or defined from a masculine perspective. The isolation engendered by this exclusion is intensified for women in remote areas beyond the networks and support services of the feminist community. As one of the students remarked:
When I first came here, it was really devastating to me. No one understood me. I had no family here, no one to relate to. If there had been a women's centre, I certainly could have used it then, but I've gotten a lot stronger over the years; I've had to.1
Acknowledgments
Many thanks to the contributors to this issue. Guest editors are Lillian Nakamura Maguire, Dorothy Robbins, and Janet Armstrong.
The writers are Lillian Nakamura Maguire, Joanne Prindiville, Cathryn Boak, Jeanne Beaudoin, Ellen Hamilton, Janet Patterson, Louise Profeit-Leblanc, Laura Jackson, Heather Menzies, the women of New Experiences for Refugee Women, and Susan De Rosa.
The illustrators are L. Emily Elliott, Susan Barsel, and . The photographers are John Bennett, Maria Facon, Jaren McLeod, and others we have been unable to identify before press time.
Special thanks to Susan De Rosa of Montreal for editorial assistance and to Portia Albrecht of Sechelt, B.C. for assistance with production. We gratefully acknowledge the financial contribution of the Women's Program, Secretary of State.
Our Cover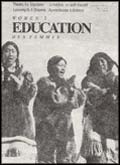 Our cover photograph, by John Bennett of Ottawa, shows members of the Tunooniq Theatre of Pond Inlet, Baffin Island, performing at Ottawa's Winterlude festival. Their story is inspiringly told by adult educator, Ellen Hamilton, who, with her husband, Pakak Innuksuk, formed the troupe as and educational project.