EDITORIAL
---
CCLOW: Pro-choice
BY CATHY BRAY
At a recent meeting, the CCLOW board of
directors passed a policy supporting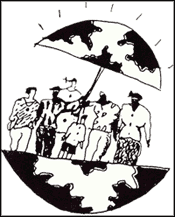 reproductive choice, including the right to choose abortion, for Canadian women. There are good reasons for taking this honourable step.
First, with the advent of safe, reliable birth control, heterosexually active women have become able to control their own reproductive destiny, and therefore their lives. The gradual recognition of these rights, across class and racial boundaries and in many parts of the world, is historic. But this recognition is not yet deeply embedded in the policies or consciousness of mainstream leadership in Canada. It is important, therefore, for all women's groups and all people who believe in the rights of women to continuously advocate for these rights until they become inviolate.
Second, the Canadian state is at a crucial stage in the development of policies related to women and families in general, and to a woman's right to abortion in particular. It is CCLOW's democratic responsibility to speak to our elected representatives about abortion, so that the humanity and good judgment of heterosexually active women is recognized.
Third, reproductive choice is fundamental to women's learning. If heterosexually active women cannot plan pregnancies, they cannot determine a course of study in their adulthood and be certain that their plan will not be aborted by the necessity to carry a pregnancy to term. And a life-threatening illegal abortion is no way to broaden the scope of opportunities for learning.
There may be members of CCLOW who do not believe that women have the right to control their own reproductive destinies through abortion, freely chosen. In considering CCLOW's newly stated position on abortion, such women might consider the relationship between their personal position on abortion and the public issue of reproductive rights. Just as the recognition of the right of education does not compel adults to educate themselves, abortion rights do not compel women to have abortions.
CCLOW members might also consider the meaning of membership in a pluralist organization such as we are. Our pluralism means that we support each other's different socio-political (including religious) analyses, as long as they fall within the boundaries of organizational principles. The CCLOW board has agreed that reproductive choice is a principle that, as an organization, we uphold.
Finally, many women's groups, in debating the issue of abortion, have learned the importance of maintaining dialogue in the development of all policies and positions. As the CCLOW board debated the abortion issue, we realized that no matter how emotionally tough the issue, reasoning and talking about our reasons was imperative. CCLOW may again I debate reproductive rights and abortion in the future, and, if this occurs, it will be wise to perpetuate the process of a reasoned dialogue.
Cathy Bray is director of the Women's Program and Resource Centre, Faculty of Extension, University of Alberta, Edmonton. She completed her doctorate in sociology of sport at the U of A and has been the Alberta director of CCLOW since May, 1987.