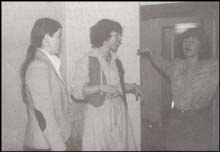 Susan Wismer, Mary Corkery and Renate Krakauer expressing enthusiasm at Banff
CCLOW began as an ad hoc committee of the Canadian Association of Adult Education (CAAE). Formed in 1972, it was sparked by the interest and concern of women such as Olivia Jacobs, Mamie Clarke, Diana Ironside and Bette Pié. '72 was the year I began working in continuing education at a community college in Alberta. I wasn't very politicized. In 1973 there were workshops in Toronto and Saskatoon, sponsored by Secretary of State and the CAAE. Women educators gathered at Saskatoon (CCLOW's first members!) and resolved to form a small national committee that would facilitate communications between women across the country concerned about women's educational needs and provide support to women developing programs for women. '73 was the year Terry Anne (then Handcock) Boyles and I began networking to support each other as we sought to redress our respective salary inequities within our institutions. I was getting politicized!
In Winnipeg, women argued about whether or not to use "feminist" in our name and how broadly to define learning opportunities.
The nucleus of the CCLOW group began planning a workshop for 1975 in Ottawa which was never held. However Terry Anne and Mamie discussed the need for and the goals of CCLOW at an International Women's Year "Learning In Translation" seminar in 1975. This was in essence our first membership recruitment and expanded our connections. We were not yet using the term "network" but we functioned like one. In 1975 we had an informal structure, but we were still an ad hoc committee of the CAAE with a nucleus working group in Toronto and what were then called "participants" feeding in their input from across the country.
1975-76 was a pivotal year for CCLOW and it was the beginning of active involvement for me; I guess I became a "member" (I remember even then thinking that there could be a shorter name for this group!) By then I knew I needed to connect with other women working in adult learning and the network stimulated and nurtured me. The Toronto group accessed a grant from Secretary of State and hired Janet Willis to travel across the country to meet with women working in women's learning and gather data on programs being offered. I still recollect the feeling of connectedness, talking with Janet about the women she had met and the innovative work they were doing. I felt part of a movement and my sense of isolation lessened. Her journey across Canada was the second membership recruitment and her reports were the first CCLOW publications.
The Project, as we called it, culminated in the first national congress held in Winnipeg in October 1977. I wasn't able to go (I can no longer remember why) and had to rely on Terry Anne for a description of what happened until the written report arrived. The Winnipeg congress concluded with agreement on some common assumptions about the functioning of CCLOW, specifically that our role was information sharing and referral, support for each other and advocacy for the survival of women's programs which were already endangered.
In Winnipeg, women argued about whether or not to use "feminist" in our name and how broadly to define learning opportunities. For example, did we include programs outside institutions and all interested people or just adult educators? The delegates wanted a geographically representative national coordinating committee but funding realities forced a compromise. Agreement was reached on a geographically rotating coordinating committee; that is, a southern Ontario group based in London agreed to take over the function from the Toronto group until April 1978, and other regions or provinces were invited to take over after that. We were still a committee of CAAE and utilized their support services.