Feeder school activity, where elementary students visit a high school and high school students visit an elementary school, has great potential. It will help influence course selection in grade 8 and more directly involve parents in the career decision-making process; it will likely attract the support of local industry (and consequently female mentors). Feeder school activity also often encourages the development of programs more responsive to community needs and interests. From the standpoint of fulfilling Here Today... Where Tomorrow? objectives, we can see that the local high school, with a progressive and committed technical department, can playa significant role particularly with leadership supportive of gender specific programs.
We wonder if there are institutional pressures put upon the teachers that have influenced their latest assessment
The initiative that began in 1985 has become a comprehensive program that incorporates mentors as resource staff in project-based hands-on workshops, delivers pre-training to teachers, delivers specialized seminars to selected groups of students, hires a coordinator to develop and maintain liaison with all interested groups and individuals in order to sustain the program, and responds to feedback by regularly developing new curriculum.
The Present-A Review Process
At this time the future of Here Today... Where Tomorrow? is being explored. A review process has been initiated primarily to evaluate the merit of and demand for the existing program. A secondary objective is to assess community-based program delivery itself. To facilitate this discovery process, our coordinator has been holding a series of meetings in regional locations for interested teachers. The participation, while disappointing in numbers, is substantial in commitment.
A questionnaire has been used as a stimulus for discussion. When asked to identify the most important aspects of the current program, the teachers listed hands-on activities, team activity, student involvement with female mentors/instructors, link with industry, and age-group focus. What is obviously missing is the gender-specific feature of Here Today... Where Tomorrow? As we have been determined to maintain this feature as a main focus of the program, this present evaluation is disappointing to say the least. We wonder if there are institutional pressures put upon the teachers that have influenced their latest assessment. Also missing in the evaluation are the girls own voices, as the meetings have been attended by teachers only.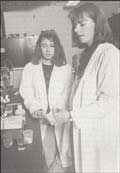 Providing a central location with facilities and resources unavailable in most schools was significant
The review process has also revealed specific communities where community-based delivery, incorporating industrial sponsorship, is being considered. In one particular community (Midland, Ontario), significant leadership is being provided by staff from the local Industrial Training Committee, a technical director from a high school which offers girls-only technical courses, and the regional Women Teachers' Association representative. This configuration of linkages might serve as a future model. While a gender-specific community-wide activity is not seen to be the most important objective, consideration is being given to addressing the need to support females differently from males within the classroom setting. One practical suggestion, within this context, is to form working groups of girls-only and boys-only and wherever possible involve local female mentors in the program activities.