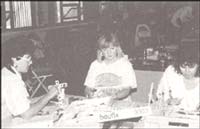 The introduction of new technologies has had a major impact on the classroom environment.
The first year the program was offered the ratio of boys to girls was approximately 8:1. This was most disconcerting. An active recruitment was started to encourage more girls to become involved in this program and advertising for the second summer program was modified to make it more "attractive" to girls. There was a slight improvement but the ratio still overwhelmingly favoured the boys. For the third year, teachers at the home school were asked to try and promote this program particularly to the girls in their classes. The ratio improved again, to approximately 8:5. More still needs to be done.
Professional Development
One of the reasons why the York Board of Education has been successful in introducing new technological topics is the amount of professional development offered to our teachers. There is a large staff development component in the Design Centre program, where the class teachers are given an opportunity to plan together with a colleague and develop a project that encompasses technology in an integrated fashion. As well, the City of York Board of Education, in conjunction with the University of Toronto, offers an eleven week non-credit course in Elementary Technology.
This course assists classroom teachers by giving them the necessary background information to develop their own programs. Most of the participants in this course have been women because most women have been discouraged in their own schooling from becoming actively involved in these areas. This lack of experience often means that topics of technology are overlooked by these teachers in the classes they lead today.
Previous attempts to introduce technology to women teachers was less than successful.
The Elementary Technology course was developed by a woman (myself) and is taught by two women. I feel this is a major reason for its success. The participants are more comfortable with a woman leader, and the course leaders, new to the material themselves, have a greater understanding of the risk involved in trying these new areas. Previous attempts to introduce technology to women teachers was less than successful. Early workshops were conducted by men who lacked an understanding of the real issues involved. There was a tendency for them to slip into "jargon" and make assumptions about the level of understanding of basic technological concepts. When the workshops are conducted by women, there is a feeling of acceptance on the part of the female teachers. Group spirit and enthusiasm develop as the participants and leaders realize new talents together.
The role of technology in our lives can not be overlooked. It is our obligation as educators to develop an awareness and understanding of the importance of technological skills with all our students and students must be encouraged to investigate these areas and to develop their personal capabilities. In this way, positive attitudes towards technology will be fostered. Our future depends on it!
Sheila Rhodes is currently a computer applications consultant for the Board of Education, City of York. She has been actively involved in developing programs and curriculum units related to Design Technology and Information Technology, and teaches Computers in the Classroom at York University. In 1990 she won the Marshall McLuhan Distinguished Teacher Award for designing an integrated curriculum unit involving technology.
"Technology in the City of York Schools". The Board of Education for the City of York, 1990.