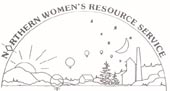 EXPANDING HERIZONS
During the first year of operation, the NWRS held awareness meetings in nineteen northern communities, inaugurated the Flin Flon base office, developed service information packages, established a resource library, developed a clearing house of information and resources, had awareness workshop and training events, initiated and facilitated a Northern Conference for women, and developed and implemented a satellite office in The Pas, Manitoba.
The Opasquiak
Women's
Resource Centre,
serving native,
metis and
non- native
communities,
opened in June
1990.
Because of the greater distances and economic hardships experienced by northern communities, the patterns of service delivery in the south do not always work in the north. The satellite concept was introduced as a new approach to service delivery appropriate for northern communities. The NWRS asked existing groups if they were interested in sponsoring a satellite service and in October, 1989, The Pas Opasquiak Aboriginal Women applied for sponsorship of an office. The application was endorsed by the Northern Coordinating Committee in May of 1990, and the Opasquiak Women's Resource Service - serving native, metis and non-native communities - Opened June 18, 1990. The main activities focus on the needs of aboriginal women in the areas of literacy, healthcare, information, referral, and support counselling services. Evelyn Ballantyne has been hired as the Resource Worker in The Pas and was previously employed as a literacy and Job Development Coordinator. She has always advocated on behalf of women's legal, political, social, economic, and education rights.
The Opasquiak Women's Resource Service is governed by the Opasquiak Aboriginal Women in conjunction with the Northern Coordinating Collective of the NWRS. In the past, aboriginal women have felt uncomfortable belonging to "mainstream" feminist groups and have indicated that, in their experience, the concerns of aboriginal women have been marginalized. The satellite office will formalize the mutually beneficial relationship between the Opasquiak Aboriginal Women and the Northern Women's Resource Service, as both groups envisage the need and the opportunity for expanding the network of women in the north.
The Northern Women's Resource Service wants information and materials from other women's organizations across Canada. If you would like more information on the NWRS and / or if you want to share information on your organization, please contact: Northern Women's Resource Service, Box 266, Flin Flon, Manitoba R8A 1M9, Phone (204) 687- 3346, Fax (204) 687- 3322; or Opasquiak Women's Resource Service, Box 3137, The Pas, Manitoba, R9A 1R7, Phone (204) 623-4852, Fax (204) 623- 4422.
Judith Clayden is currently one of the Resource Coordinators working at NWRS.