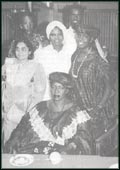 Disabled women at the Cisabled Peoples' International West African Women's Training Seminar (Zohra Rajah of Mauritius is on the far left in the middle row), April 1990 in Mauritania.
International Literacy Year intersected the UN Decade of Disabled Persons (1983- 92). The UN's World Program of Action Concerning Disabled Persons established for all countries the goal of "equalization of opportunities" which it defines as "the process through which the general systems of society, such as the physical and cultural environment, educational and work opportunities, cultural and social life, ...are made accessible to all" (2). The concept implies a vigorous program of barrier removal.
All over the world people with various disabilities have formed their own self-help organizations to advocate with one voice for equalization of opportunities and improvements in the status of disabled persons. There are similarities between disabled people's struggle for empowerment and the feminist movement. In Canada, the Coalition of Provincial Organizations of the Handicapped (COPOH), a national cross-disability advocacy organization of disabled persons, works to ensure that the needs of disabled people are addressed by generic service delivery systems, rather than by segregation. Organizations such as COPOH and Disabled Peoples International (DPI), the international self-help organization of disabled people, work to decrease disabled people's marginalization in society.
In Canada in 1986, 39.2% of disabled persons aged 15 to 64 were employed compared to 70% of the nondisabled population in the same age group. Statistics Canada's Health and Activity Limitation Survey also indicates that 4.3% of disabled people have a university degree compared to 10.3% of the nondisabled population. Severe disability has an even greater impact on educational attainment: a Decima survey found that 45% of severely disabled respondents had eight years of education or less compared with 25% of people with mild disabilities (3). Women with disabilities experience double jeopardy: the negative effects of both sexism and disability-based discrimination. In Canada, disabled women's average take-home pay is just slightly more than half of what nondisabled women earn ($4,810 compared to $8,800) (4). Disabled women in all societies are the poorest of the poor.
The barriers to disabled women's learning are most acute in developing countries. Yutta Fricke of DPI claims that the vast majority of the world's 500 million disabled people are illiterate and suggests further that 350 million disabled people living in developing countries are without education. Lack of accessible transportation, the frequency of steps into schools, and the attitudes of families who want to keep their disabled daughters at home to do chores inhibit disabled women's education.