Experiences as graduate student in Canada
I will discuss the experiences of South Asian women academics as graduate students from the perspectives of admission, finances, course work, finding a mentor, interaction and relationship with the mentor and other professors, interaction and relationship with peer groups, and the effect of family life on student life. These women studied at the universities of McGill, Concordia, Montreal, Toronto, Waterloo, Ottawa, British Columbia, and York.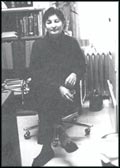 Admission
From my study it is clear that many South Asian women had no difficulty entering Canadian universities. Six of them applied directly from South Asia and were admitted before their arrival. Another thirteen were admitted after their arrival in Canada. One, who had only high school education, obtained admission to an undergraduate program as a mature student, and another, with junior school education, completed high school before entering university.
As women, immigrants and non-whites, South Asian women academics face a triple disadvantage.
The women's attempts to gain admission to a particular degree program were less successful because, with the exception of the Ph.D., most South Asian degrees are not considered equivalent to Canadian degrees. Thus, the women who arrived with Masters degrees from South Asia were, with one exception, not directly admitted to a Ph.D. program but had to either complete another Masters program or finish a qualifying year before starting a Ph.D. The one woman accepted directly into a Ph.D. program assumed that the "university was opening a new department and wanted students" and therefore allowed her admission as a doctoral student, though she was asked to take a qualifying examination during her first year.
The women with North American (United States and Canada) and Western European degrees and working experiences were in the most favorable positions to enter the Ph.D. programs. For example, women with Masters degrees and one year experience as graduate students in the United States, or women with nine or eleven years teaching experience in Montreal's school system, were directly admitted into the Ph.D program. Two women who had one year's research experience at a European university and who had been encouraged by professors to study in Canada, were also admitted into the Ph.D. programs in one of the French universities. One was able to complete her Ph.D., but the other had to switch to a Master's program after working for a year and a half.
Bachelor degrees with honors were judged differently. The women who studied in the 1950s were able to enter a Masters program, but those who studied in the 1960s and 70s had to complete one semester in an undergraduate program before being admitted into a Masters program. The women who were admitted to Masters programs already holding Masters degrees or those admitted to undergraduate programs already holding Bachelor degrees showed no discontent; rather they felt this was necessary. Only the woman who, for reasons that are unclear, had to change from a Ph.D. to a Masters program in her second year was dissatisfied.
The flexibility of schedules and requirements has a significant impact on the educational plans of women in general, and immigrant women in particular, because these latter often have less of a immediate support network and greater financial need. The lack of a part-time Ph.D. program at one university compelled one woman to change from a Ph.D. to a Masters program after her children were born. On the other hand, the existence of a part-time Ph.D. program in another university enabled one woman to earn her degree while teaching full-time.