Their art has
slowly been
raised from
the floor to
the walls,
taken from
the home/
studio and
placed
alongside
"high" art in
the gallery
context.
The inherent contradiction of the affordable and available ethnic crafts is a matter of economic hierarchy. Eskimo carvings and African artifacts are examples. When a creative product is manipulated by the entrepreneur to be "Original" (i.e. controlled quantity), the price is raised and the product then enters the high art forum of gallery or museum. Culture determines artwork's place and, as in the original dilemma, the patriarchy excludes/includes whatever/whomever it desires.
The importance of the art created by women, while having been excluded from the "higher institutions" is presently being acknowledged. An example is the recent research and writings that have brought rich sources of needlework to the forefront and given them overdue recognition. Articles of decor and ritual now in museums are breaking the boundaries once imposed on them and the post-modern discourse, recognizing inter-relationship of art and craft, has discarded many of the distinctions made by its predecessor, the modernist movement.
As a woman artist who began 20 years ago as a weaver of functional articles and who continues to use textiles in my work, it occurs to me now to question the value of being allowed to play with the "big boys." As Lippard states, "Some women, however, have realized how unsatisfying success can be in an alien world with an alien value structure."
Reprinted from WEdf Spring 1988, Vol. 6.2.
Ann MacGillivray was a production weaver in Nova Scotia before going back to school. Much of her art centres on feminist and political concerns in Central America where she spends much of her time.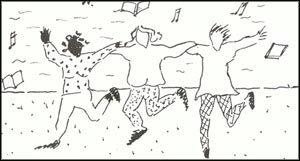 This sketch was part of a cooperative art process that took place during a visual brainstorming exercise held during a B.C. CCLOW summer retreat. The brainstorming exercise involved relaxation and guided visualization processes designed to liberate the visual artists in all of us. Each woman was asked to draw her ideas of what feminism meant, and what a world would be like that was a realization of feminist ideals." - Janet Patterson
Reprinted from WEdf Spring 1988, Volume 6, No.2.