Similar anthologies of this kind, of which there are few, include Rosemary Sullivan's Stories by Canadian Women and More Stories by Canadian Women. But these two collections differ in purpose and kind. Both, most obviously, are anthologies of just short stories. The first volume takes a historical approach, starting with Isabella Valancy Crawford and ending with Aritha Van Herk. The second volume includes "new writers," those who have risen to prominence in the last two decades, such as Janice Kulyk Keefer and Bharati Mukherjee. Neither volume uses the thematic linking of Celebrating Canadian Women. Nemiroff also intended that her anthology serve as a complement to Women & Men: Interdisciplinary Reading on Gender (Fitzhenry and Whiteside, 1987) although as she points out: "the focus in Women and Men is on describing, explaining, and remediating the issues under discussion. The works in Celebrating Canadian Women illuminate how women perceive and define these experiences."
This anthology should be widely used in college and university courses, whether in English or Women's Studies. Lately, the white, male dominated "canon" of literature in English courses has been challenged by those who realize that a much wider diversity of human experience needs to be expressed and recognized; this anthology would provide a suitable alternative. And although the state of Women's Studies courses in Canada is deplorable, as Nemiroff outlined in the spring 1989 issue of Women's Education des femmes, this collection would provide an impetus for developing new ones.
Celebrating Canadian Women in its diversity and range provides a wealth of reading for those who want to hear from Canadian women. They have had a difficult time being heard.
Reprinted from WEdf, March 1990, Vol. 7.4.
Maureen Shaw the President and CEO of the Industrial Accident Prevention Association (IAPA). She is also a wife and mother of Christie and Marc - both survivors and learners. Maureen is committed to ongoing opportunities to share knowledge and skills for the betterment of our community.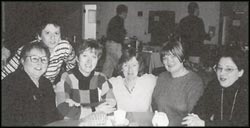 Current 1998/99 Board Members. From left to right, Suzanne Bailly; Nova Scotia; Maria Cordeiro, Administrative Co-ordinator; Doris MacDonald, Prince Edward Island; Jo-Anne Stead, Ontario; Betty Donaldson, Alberta; Linda Shohet, Quebec.