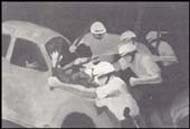 I later did a series of large paintings called The Family Series, in which I painted twelve scenes of from my childhood. I had grown up in a very large Jewish family in Chicago, and after being away for many years, I found that I missed some of these people very much. I painted them to keep me company here in Canada. The series evolved into paintings of archetypal figures with emphasis on light and shadow. Because light is so connected with spirituality, painting the series led me to reconsider my spiritual roots, and eventually led me into a more intense involvement with the Jewish community here in Victoria.
The Aunt Molly painting comes from that series. When I painted her, someone I respected and loved, I was very clearly feeling the ecstasy of her dance. By experiencing that while painting, I was able to communicate it strongly. That experience taught me a really valuable lesson: if I feel something strongly while painting, the feeling will be communicated. There is magic in that!
The major lesson and perhaps the most difficult for all artists, visual or otherwise, seems to be how to work with the creative process: how to access the unconscious and not get too upset when that access doesn't happen. I have been through many periods of time when I have lost my way and have been without relevant ideas or images. These are trying times when the best thing to do is relax and gather new ideas. Learning to do this has been extremely difficult for me, and it's an ongoing learning experience.
I have also learned through painting who I am as a human being: what my strengths are and what my weaknesses are; how I drive myself and how I don't; how I become a performer when I need to and a saleswoman when I need to; and how all these sides are interrelated. No other work I have ever done has allowed me this kind of exploration.
For me, learning and teaching are two sides of the same coin. What am I interested in teaching my students? Sure: everything I have talked about in the article and whatever else I'm sparked by. But the major lesson for them to learn is that they can make their own lives, their own futures. I was a housewife with kids who started out painting with a paint-by-numbers set. In the years to follow, painting was a way for me to forget the difficulties that developed in my marriage and a place to escape to away from these problems. I got very good at it.
Through all the changes that happened after 1968 -- coming to Canada, leaving my husband, having to earn a living -- I continued to paint. During that time I worked part-time, painted part-time and went back to art school, but I never envisioned that I could actually earn my living as an artist. Finally a friend suggested to me that I choose what I wanted, that I say to something "yes, this is what I want to be," and it would happen. And it did!
I really want my students to know that. If they're working for the government or cooking in an old people's home and have just picked up a paintbrush for the first time, and painting becomes something that is important to them -- something that gives them joy and the ability to work out life's problems -- I want them to know that it's an interesting and wonderful life and they can do it!
The painting reproduced on the cover of this magazine is called Esmeralda and the Fish and I connect it with another kind of learning that can come through a painting. I've painted many fish before but they were always on plates or in fish stores and no one ever physically touched them. That idea began the Esmeralda Series. In it the fish took on a new dimension, that of the unconscious. The image of a woman holding a fish represents an intimate connection to my own creativity. Really touching the deepest part of myself brings me a sense of comfort. It is a great luxury to be able to sit in that chair and touch something so beautiful.
Phyllis Serota is a painter living in Victoria, B.C. She graduated with a B.F.A in visual art in 1979 from the University of Victoria. She has shown extensively in Victoria and in Vancouver, Island and in Vancour, Edmonton and Saskatoon. She is represented in collections through Canada and the United States.