Not Onwards and Upwards:
Enrolment of Young Ontario Women in Secondary School
Science, Math, and Technology Courses
BY RACHELLE SENDER BEAUCHAMP AND GEORGINA FELBERG
Recent gains in the proportion of females enrolled in high school math and science courses result from a decrease in total male enrolments.
Recent statistics obtained from the Ontario Ministry of Education (1) indicate that young women in Ontario continue to opt out of optional science, math, and technology courses at a rate which exceeds that of their male classmates (Figure 1).
For example, there are twice as many boys as girls in Ontario Academic Credit level (OAC, previously grade 13) physics and four times as many boys in computer science and drafting.
Figure1
Participation of Males vs Females in Non
Traditional Subjects (Ont., 1988
PERCENTAGE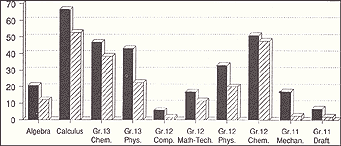 SUBJECT

Ontario Ministry of Education, 1988
Percentage of Total Enrollment