Technology for kids: A Photo story
BY MEGAN GARDINER & NANCY MOORE
In a world of rapid change, primary and junior education continues to be challenged to identify and provide relevant curriculum. Elementary school children naturally tend to an investigative style of learning; their inventive urge is not inhibited by notions of what is acceptable and they have the desire to communicate about what they have been involved in.
We need to provide our students with opportunities to open their world to commerce, manufacturing, and creative aspects of industry around them, through a holistic and integrated approach. Design and Technology involves looking at what is already happening and putting it together differently. It is about designing, communicating, making, testing, evaluating, and encouraging children to go beyond their first ideas and seek more effective models that can influence and control the environment in which they live.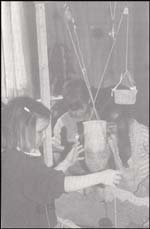 It was with this in mind that a group of consultants and teachers from the Toronto Board of Education formed a study group to develop meaningful and realistic ways to bring Design and Technology to the classroom. The excitement and enthusiasm of the students as they became involved in the process is captured in a series of photos highlighting such areas as Pulleys, Take Apart, Invention, Construction, Wonder Table, Kitchen Gadgets, Tool Shed, and Wheels.
Sand: "We made a construction site with hills of sand and a thin layer of sand for pavement. The sand from the little container went to the big container and poured out into a pipe to make the pavement."