Strategy discussions resulted in a number of resolutions and recommendations, contained in the submission to the Minister by President Leiba Aronoff.
The Colloquium resolved unanimously that:
CEIC contract for industrial training only with those employers who will commit themselves to affirmative action
financial aid for part-time learners be made available and include tuition, books, transportation, and child care costs
the scheduling and locating of part-time programs be done so that they are more accessible
"bridging courses" which allow women greater access to skills training under the NTA be offered and supported on a part-time basis
access to English and to French as a second language be provided for all who require such training
access to science and computer literacy be provided through CEIC as bridging programs leading to technical training
basic education up to the end of high school be made accessible
there be continuous access throughout the training process from one level to the next, without interruption
CEIC monitor the impact of abbreviated technology programs on women students, including job placement records and compare to the longer diploma programs
CEIC, in conjunction with appropriate federal and provincial departments, work towards providing adequate funding for women to pursue training in technical diploma and certificate programs which exist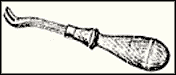 A further recommendation which was made, that money be made available to non-profit groups for the development of proposals for use of the Skills Growth Fund, has already been addressed by the Commission. The Minister announced in July that up to $50,000 would be made available to non-profit organizations to develop proposals, thus enabling women's groups with limited resources to apply for funding.
ACTION!
If you support any or all of these recommendations, write to, or visit the head of your local CEIC office to discuss them. Write to your provincial Minister of Education, listing the recommendations and asking that she/he support and implement them. Write also to John Roberts the New CEI Minister